Celebrating 30 Years Of Success!
ProSource History
"Co-founder Alan Greenberg (deceased) and I saw an opportunity for a unique B2B business model that would cater to trade pros. The idea of a private, members-only showroom that carried higher end products was a wonderful market niche. To this day, ProSource appeals to members who want selection, better goods, and to shop with confidence in a wholesale environment. As the model evolves, the business is still run the same, and the demand continues to increase."
— Howard Brodsky, Co-Founder, CCA Global Partners
ABOUT PROSOURCE WHOLESALE
Established in 1991, ProSource Wholesale® is the industry leader when it comes to understanding and meeting the unique needs of trade professionals and clients. We serve builders, contractors, remodelers, installers, interior designers, architects, real estate professionals, and more —providing exceptional offerings you won't find anywhere else in the industry.
ProSource goes all-out to exceed the needs of our trade pro members, no matter how big or small the project. We offer a staggering mix of name-brand home improvement products — and we make them available at the lowest possible prices, thanks to our extraordinary buying power.
As one of North America's top wholesalers, we boast stunning home improvement showrooms across the U.S. and Canada, each independently owned and operated. There, you'll get an up-close look at our impressive floorcovering selection, featuring carpet, hardwood, laminate, stone, and luxury vinyl tile, as well as our kitchen and bath offerings, including cabinets, countertops, faucets, sinks, and so much more.
Beyond the fabulous product offerings and exceptionally low prices, ProSource provides something that truly sets us apart: an online, comprehensive, project management service. Homeowners and trade pros alike enjoy the industry perks of setting up a myProSource account to keep track of project inspiration, product picks, design advice, and budget.
Think of ProSource as your home improvement matchmaker. On your own, or with the help of a dedicated account manager, you can connect 24/7 with anyone or everyone who's involved in your project. The myProSource Project Center account lets you share visions and ideas with one another to take the guesswork out of the process. And it's all in one convenient place.
Like a strong community, a productive company culture has underpinnings that describe how and why we work together.
The following is a summary of our values, inspired by input from employees throughout our entire company, from franchise owners to showroom staff to corporate executives.
These values are rooted in business strategy as much as they are in our hearts, and we look forward to sharing with you the deeper meaning behind each of them.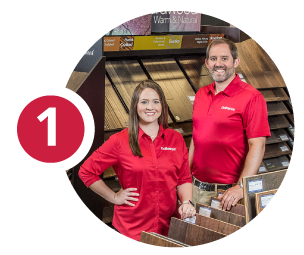 Be a great teammate for your showroom staff, members, and vendors.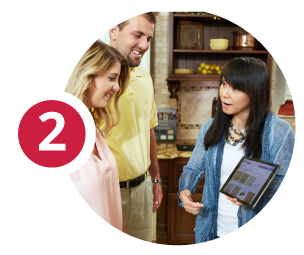 Be the expert resource for your members and their clients.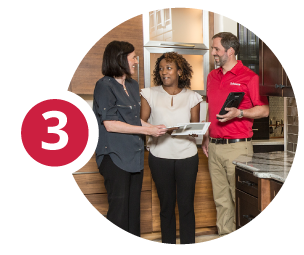 PROVIDE EXCEPTIONAL SERVICE
Always remember, our business IS relationships.
We invite you to take a virtual tour of a few of our showrooms below
We invite you to take a virtual tour of a few of our showrooms below
ProSource Wholesale showrooms average between 10,000 and 12,000 square feet and are usually found in industrial parks. Our showrooms have the widest selection of flooring, kitchen and bath products complete with product samples and full kitchen and bathroom vignettes that help visualize the project. ProSource offers a ProKey® pass to its trade pro members that allows 24-hour access to the showroom. This is just another way we help our trade pros and their customers complete successful projects.
PARENT COMPANY CCA GLOBAL PARTNERS, INC.
CCA Global Partners' cooperative business model has a proven track record of empowering thousands of entrepreneurs to succeed in a marketplace that is impacted by widespread consolidation. CCA's mission is to empower entrepreneurs and independent business owners by providing the scale, resources, and innovation that create sustainability, growth, and effective competition in today's evolving marketplace. More than 3,500 locations in North America and abroad benefit from CCA's leadership through its 14 different businesses.