Dan Thaler
PRESIDENT

THALER IMPROVEMENTS, INC.
How has ProSource Wholesale helped your clients?
It affords my clients a one-stop shopping experience. I know they can find whatever they're looking for in one place.
What's the most valuable benefit of being a ProSource Wholesale member?
The one-stop shopping saves me a lot of time since I don't have to take clients to a lot of different places to pick out what they want.
How has myProSource.com helped your business, or how do you envision it helping your business?
One of the first things I tell my clients is to go online and see what they can choose from. It helps them get ideas of what they want before we sit down together for the first time, and makes the process much more efficient.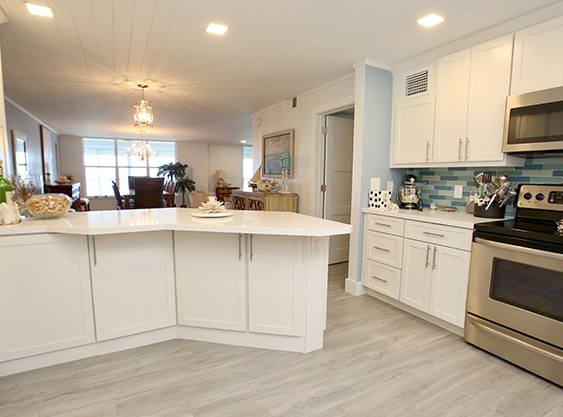 What brings you the most satisfaction in your work?
Seeing the look on a client's face when they see the finished project, especially snowbirds who are returning to see it for the first time.
What are the greatest challenges you face in your work?
Finding and keeping reliable help is a huge challenge.
What trends are you seeing with regard to home design and remodeling?
Luxury vinyl planks and ceramic tiles that look like wood are big here. They're easier to install and more practical than wood flooring in handling water/spills and other things.
Describe a recent project you're particularly proud of. What made it so satisfying?
We remodeled a beachfront penthouse condo. It was the owners' dream to make it a family getaway, so we took out a wall and some hanging cabinets to make the ocean visible from the kitchen. We also put tongue-and-groove knotty pine planks on the ceiling throughout to make the space seem bigger, and give it more of the Key West look and feel they wanted.
What's one piece of advice you would advocate to clients (homeowners) before they begin a project?
Do your homework on styles and don't second-guess yourself. Plus, check out the background of the contractor you're hiring.
What's your dream project?
I want to create a crazy, insane kitchen for my wife. She enjoys cooking, so I'd love to make it her oasis with things she really likes – big crown moldings, corbels, and lots of funky hidden pullout storage.



slide2-5aeb254bdc544-2000x702
Slide-1-1-5aeb24568b2b3-2000x702
COMMITTED TO THE SUCCESS OF OUR OWNERS.
Business professionals across North America are discovering our unique franchise opportunity that's in a niche selling channel within a $315+ billion industry and projected to grow another 7.5% in 2018.*
We are a low-cost franchise opportunity that generates sales thanks to the relationships we build with trade pro members. We exclusively serve trade pros and their clients from private, members-only showrooms.
Owning a ProSource® is about more than selling home improvement products; it's about building relationships and having a positive impact on your local community.
* LIRA 4Q - Joint Center for Housing Studies of Harvard University
THE SECRETS TO THE SUCCESS OF THIS UNIQUELY INTELLIGENT FRANCHISE MODEL INCLUDE:
No retail hours
Limited inventory
No installation services
Access to billions of dollars in buying power through the ProSource Cooperative
Low overhead operating costs
No accounts receivable
DON'T MISS OUT! OWN A PROSOURCE WHOLESALE FRANCHISE
For more information, please fill out our form below.
"*" indicates required fields