Essential Steps Before Buying a Home Improvement Franchise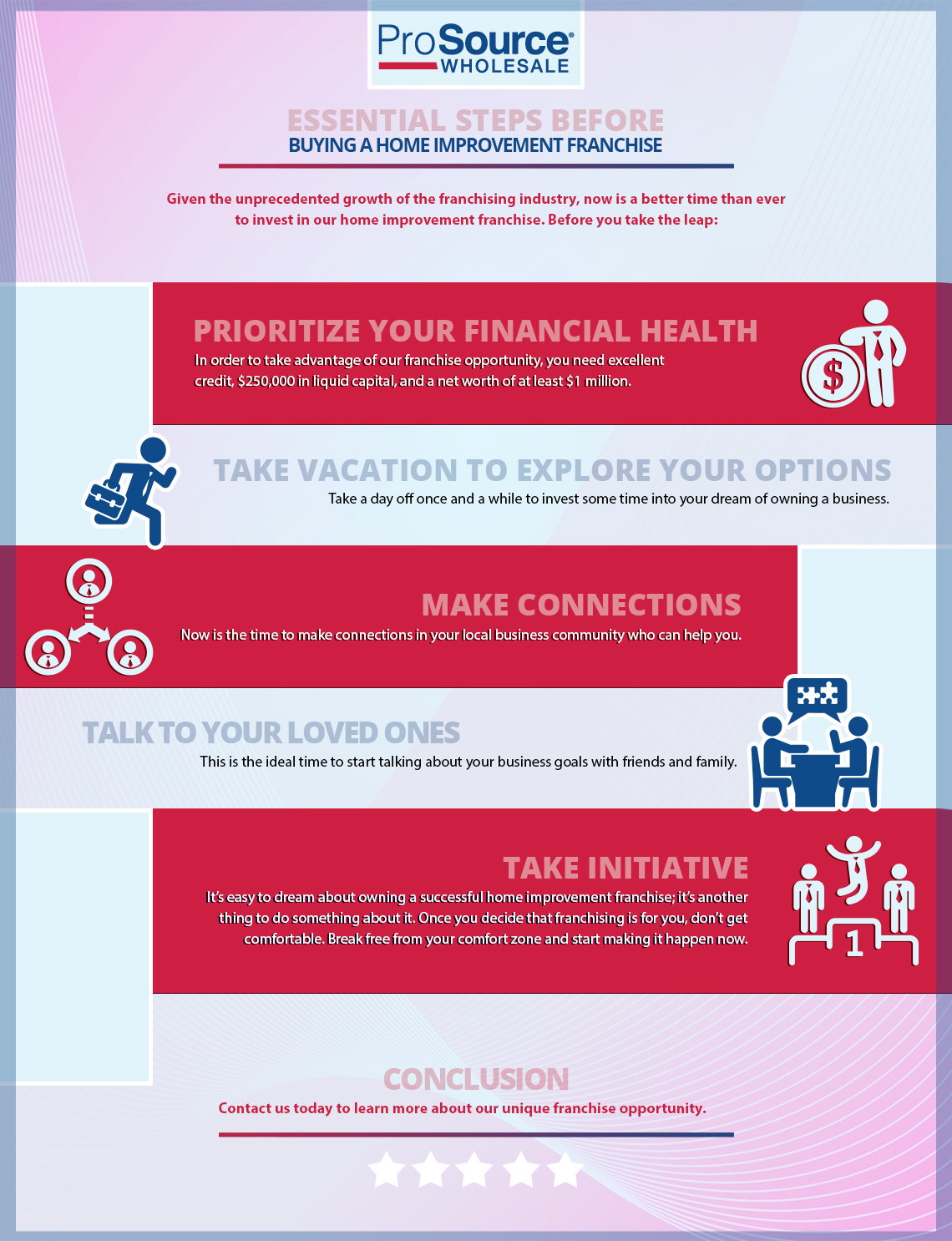 The franchising industry is booming in 2018, and it isn't hard to understand why. With unemployment low, it is easy to be an employee in the U.S. right now, but for people with an entrepreneurial spirit, helping someone else achieve their dream while yours are pushed to the side isn't going to cut it. If you have dreamed of owning a small business but are in need of support, a franchising opportunity may be perfect for you. At ProSource®, we offer a low-cost home improvement franchise that utilizes an established network of trade pro members to help you build the relationships you need to succeed and give back to the community. Our franchise is growing exponentially, and the franchising industry as a whole is moving in a similar direction. Consider the following statistics.
Franchising Opportunity Stats
This year:
Franchises are projected to increase by 1.9 percent by the end of the year.
Franchise employment is slated to increase by 3.7 percent, surpassing the economy as a whole.
Franchise business output is poised to increase by 6.2 percent to $757 billion.
The GDP of the franchise sector is projected to exceed U.S. GDP growth by 6.1 percent.
Given the unprecedented growth of the franchising industry, now is a better time than ever to invest in a franchise, particularly our home improvement franchise. However, before you take advantage of this incredible opportunity, it's best to prepare yourself so you're in the best position to succeed. Here are five essential steps to take before you take advantage of our home improvement franchise.
Prioritize Your Financial Health
You have put in a lot of hard work to thrive financially, so it's natural that you would want to use your funds to treat yourself. However, if you're interested in investing in a franchise, now is not the time to spring for that new car. In order to take advantage of our franchise opportunity, you need excellent credit, $250,000 in liquid capital, and a net worth of at least $1 million. With this in mind, it's clear why an essential way to prepare yourself for your business is to get your financial ducks in a row. Take that extra income and save, don't spend.
Take Vacation to Explore Your Options
If you're like most Americans, you aren't taking full advantage of your paid time off. In fact, only 54 percent of U.S. employees use all their PTO. While you may not be eager to spend that money on a European vacation (particularly since you are saving up for your franchise), you still shouldn't waste the opportunity for more time. Take a day off once and a while to invest some time into your dream of owning a business. Research about successful franchises, learn your market, and schedule meetings with current franchise owners. Use your PTO to explore your options in opening your own small business and dream about the future.
Make Connections
At ProSource, our network of showroom owners is an incredible resource to you once you invest in our franchise opportunity. That doesn't mean that there is no networking to be had before you join the ProSource family. When you look at your current network, you may see many people in similar positions as you, and fewer people who are where you want to go. Now is the time to make connections in your local business community who can help you. Reach out to the local chamber of commerce to learn more about the current business climate in your city. You can also begin to develop relationships with other franchise owners in the area to learn more about the process as you get ready to invest in a ProSource franchise.

Talk to Your Loved Ones
This is the ideal time to start talking about your business goals with friends and family. While you are currently generating income from being an employee, it's a lot easier to start discussions with your spouse, children, and other family members about the possibility of you jumping into business ownership. If you wait until a period of financial distress, this can make the prospect of putting a lot of your resources into a business a lot more stressful for all involved. Begin planning for tomorrow now so your family can feel more comfortable when you do decide to purchase your ProSource franchise.
Take Initiative
It's easy to dream about owning a successful home improvement franchise; it's another thing to do something about it. Once you decide that franchising is for you, don't get comfortable. Start writing down ideas to further yourself toward your goals. Schedule meetings with relevant parties, set aside a time to talk to your family, and research the local market. It doesn't matter which of the above steps you start with; just start! Break free from your comfort zone and start making it happen now.
When you're ready to take the leap, we are here to guide you through every step of the process. With ProSource, you can anticipate a franchise model that is designed for success with a network of support that can help you get there. With access to billions of dollars in buying power through our cooperative and low overhead operating costs, we offer a financially sound investment opportunity to entrepreneurs who meet our qualifications. Contact us today to learn more about our unique franchise opportunity.
Why Open a ProSource Wholesale® Franchise?
In business for yourself, but not by yourself — we support you every step of the way and in every area of your business
Qualified customer base — the members-only model means we only work with trade pros who are invested in ProSource as part of their team
High-quality products — it's easy to market our flooring, kitchen, bath and plumbing products because they are fashion-forward and made to last at wholesale prices
Customized plans for your market — we help you create a customized marketing plan based on your specific area
It's all about relationships — the ProSource Wholesale model is service-oriented, making it perfect for entrepreneurs who love connecting with others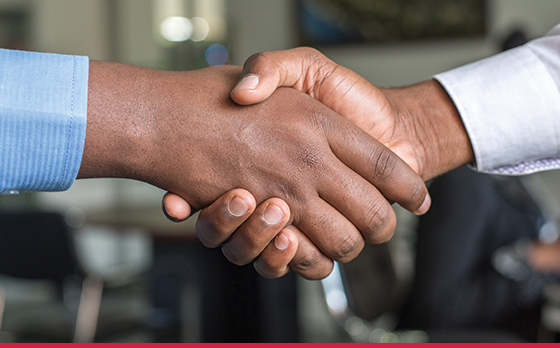 ProSource Wholesale is not your typical home improvement store. We have specifically designed our model to address the needs of our clients and our franchise owners alike, creating mutually beneficial business relationships. For our trade pro members, ProSource offers a showroom of beautiful home products to help their clients create their dream homes, and a friendly and dedicated team to facilitate that process. In return, franchise owners are able to create ongoing relationships with trade pros instead of chasing individual retail sales.
Of course, both sides of this equation are supported by our corporate team, ensuring that everyone receives what they need, every step of the way.
ProSource Wholesale:
The #1 Home Improvement Wholesale Source
Since 1991, ProSource has been a leading resource for trade pros and their clients. Our unique approach sets us apart from all other home improvement franchise opportunities. Rather than utilizing a retail model where you sit and wait for the customers to come to you, our franchise opportunity is designed for proactive self-starters who would rather use their stellar relationship-building skills to create a customer base.
With over 145 showrooms across North America, our scope and influence in the industry continue to grow.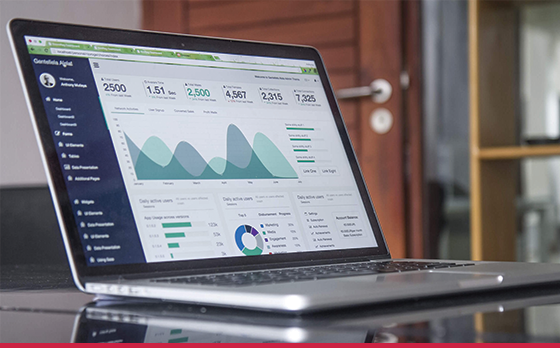 DON'T MISS OUT! OWN A PROSOURCE WHOLESALE FRANCHISE
For more information, please fill out our form below.
"*" indicates required fields