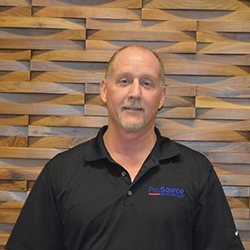 Greg Hoffman
ACCOUNT MANAGER

PROSOURCE OF HOUSTON – THE WOODLANDS (TX)
How long have you worked for ProSource Wholesale?
It will be eight years in November.
What's your favorite part of being a team member at ProSource Wholesale?
Building relationships in working with members on a daily basis and getting to know each other.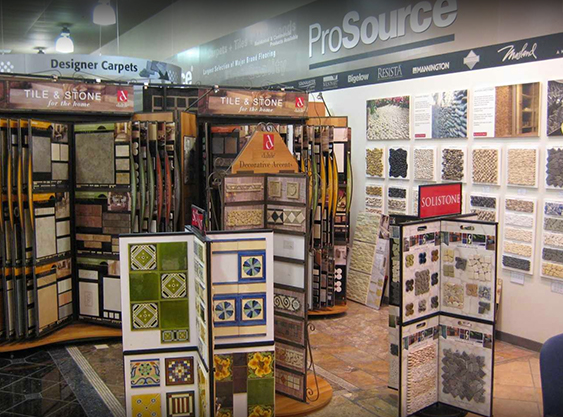 How do you interact with the kitchen and bath designer (when applicable), as a cohesive team for the trade pro and the client?
We have a close working relationship. When I start working with the client, I try to introduce them to the designer as soon as possible so the designer can ask questions and get a good idea of what the client wants and needs.
What trends do you see developing with regard to home remodeling?
We're seeing a lot of kitchen and bath remodels right now. There's also a high usage of subway tiles in white and gray tones.
What trends are you seeing with regard to products (what's being purchased and manufactured)?
Patterned carpets are trending now along with brushed/lighter woods, marble-look floor and wall tile, and quartz countertops.
What are a couple of your favorite flooring products (ProSource Wholesale private brand products)? Why? Is there a recent project where these were used?
It would have to be the COREtec® waterproof luxury vinyl planks. They wear well and they're great if you have kids and pets. Plus, there are lots of styles and colors to choose from. We just did the floors with COREtec in a huge million-dollar spec house. When people toured it, they thought the floors were actually real wood.
How would you describe the difference between the service you offer at ProSource Wholesale versus retail or the big box stores?
It's all about building relationships because we get to know our members, including what they like and don't like.
What's one piece of advice you would advocate to clients (homeowners) before they begin a project?
Do your research upfront to get an idea of the trends, styles, and colors you're interested in using. Also, be patient because it's not a quick process.



slide2-5aeb254bdc544-2000x702
Slide-1-1-5aeb24568b2b3-2000x702
COMMITTED TO THE SUCCESS OF OUR OWNERS.
Business professionals across North America are discovering our unique franchise opportunity that's in a niche selling channel within a $315+ billion industry and projected to grow another 7.5% in 2018.*
We are a low-cost franchise opportunity that generates sales thanks to the relationships we build with trade pro members. We exclusively serve trade pros and their clients from private, members-only showrooms.
Owning a ProSource® is about more than selling home improvement products; it's about building relationships and having a positive impact on your local community.
* LIRA 4Q - Joint Center for Housing Studies of Harvard University
THE SECRETS TO THE SUCCESS OF THIS UNIQUELY INTELLIGENT FRANCHISE MODEL INCLUDE:
No retail hours
Limited inventory
No installation services
Access to billions of dollars in buying power through the ProSource Cooperative
Low overhead operating costs
No accounts receivable
DON'T MISS OUT! OWN A PROSOURCE WHOLESALE FRANCHISE
For more information, please fill out our form below.
"*" indicates required fields